About Us
We provide expertise in creative design, to help companies stand out in a competitive marketplace. Bussroot has its own unique style, which informs our vision. A key strength is our ability to envision a client's products, services, and identity in ways they may never have considered. If it's ordinary design you want, sorry we can't help. Design should challenge, should shout about you and your capabilities, it should be inspirational. Our mission is to get you noticed, that's what matters.
If you would like to discuss any forthcoming project we'd love to hear from you.
A wealth of experience
With 23 years of experience in the creative industry we have built a considerable wealth of skills and design knowledge that we can apply effectively to your business. We can deliver everything from brand invention to brand extension, social media banners, brochures, stationery, newsletters, exhibition design, flyers, postcards, product launches, and advertising campaigns. We produce great designs that will carry a strong message across a wide range of media.
Affordable
As a small company with low overheads we can offer cost-effective pricing making it affordable to all businesses. We've introduced set prices and a transparent hourly rate to make the buying process as simple and easy as possible, whilst still achieving a high standard of design and quality.  
Anna-Marie Buss
Owner | Designer | Artist
I began a career in graphic design at the age of 17 in a fast-paced advertising agency. I worked my way up the design ladder and started Bussroot in 2000. Along the way we've won design awards and worked on some amazing national and international projects.
A few years ago I started a successful artist practice and I sell both locally and internationally. I also have a selection of paintings in the Beumée Gallery in Tunbridge Wells. I welcome commissions and have brought people to tears (in a nice way) on the big reveal. I work out of my lovely studio in the Kent countryside where I get most of my inspiration.   
SKILLS
Adobe CC (ID, AI, PS)
Over 25 years' experience
Visualising and design concepts
Artist and Illustrator
Artwork and pre-press
Art direction
Good communication skills
Attention to detail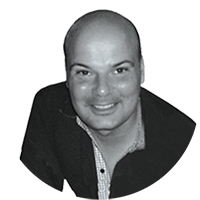 Vin Steeden
Coder | IT expert
Starting my career as a development engineer I have experience of very large complex programs to database front end management software. I am experienced in multi-language integration and custom back-office solutions to online payment systems and SEO.
SKILLS

Microsoft Certified Software Engineer
Microsoft Certified Professional
Cisco Certified Engineer
Bill Gates acknowledgment of achievement
Apple Shake Certified Professional
Maya 3D modelling / rendering Certified Professional
Film 3D/Compositing effects.
Clients we've worked with